After my little annoyance at my boobs (why you change sizes yet AGAIN?) I got over myself and went online to get new bras in my guesstimate size 28F. Assuming that I am still growing, not knowing my correct size for SURE and being kind of broke (I should stop harping on about that. Maybe just a savvy consumer. Environmentally conscious minimalist shopper. Whatever) I ordered two bras from Bravissimo, the Zia and the Juna, both by Cleo.
I think they are both going to work ok, but neither gave me an Ahhhhh moment. To be honest, the couple of Freya bras I own or have tried on have been more comfortable, just due to the fact that the bands are a little looser, making the gores more comfortable (less digging). This is making me reconsider the necessity for 28 bands for my 27 inch torso, I mean, comfort-wise band 30s are less gore-problematic, but still annoy me due to their shifting bands, and the fact that the cup is sometimes distorted over my too small frame. Also, Freya gores do not seem to come up as high. There are no boobs on my sternum, wire go away! You hurt my boniness!
What was right with the Juna:
The colour was just fine, too pink toned to be any kind of realistic nude, and too pale for me, but that shade could well suit some people, and it was still skin-coloured. The lace at the top of the cups was cute, it was well formed. It contained all my flesh (ughh, what a horrible word!), the wires and cups sitting just so.
But the bad:
Let me note that most of this stuff diminished with wear. It was noticeable the first day I wore it, and has been decreasing, with the exception of the shape the bra gives me. After a few washes and wears the bra should be fine. Ok. First off, the gore. WHY S HIGH??? At least in the 28 bands, for us with bony rib cages, make it lower! I could feel it as I breathed, or folded forward, but now he feeling is much less acute. Also, the seam between the top of the cup and the elastic is somewhat visible under clothing,but whatever, I really couldn't care. I wear a bra. You see the seams and are aware of the fact. BOOM. The tag was also a tiny bit itchy, but I will rip it out, so no biggie. The band felt fine, but angled up just a little, ie was not flush with the ground, which is a little odd. Other than that I can't fault the bra. Its a good everyday bra, which is what I wanted and got.
Construction, the half cup style did NOT work for my top heavy breasts. There is too much flesh above the top of the cups, without cleavage, just subtly there under my collar bones, and a little bulging, or disturbance of the nice, clean shape, above the rim of the cup. As I mentioned, the gore was too tall, and thus irksome. Perhaps I could have gone up a cup size. Coupled with the fit of he Zia I think I am a large 28F, small 28FF. Size established, I now want to buy ALL this stuff from Ewa Michalak!
Like:
The Satine. It is an S style with a tighter band, and looks good for everyday.\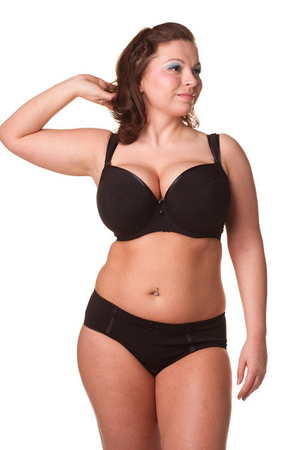 The Onyx (PL) with matching panties, which are basic and black with cute detail. I just want a basic, well constructed Ewa bra.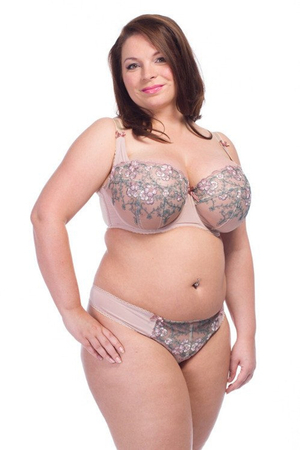 Dammit,so cute WANTIT this Burek bra, but it starts at a 30F, and I may be sized out.
The Rokoko is gorgeous, and the matching panties have ruffles on the butt, but the set is REALLY expensive.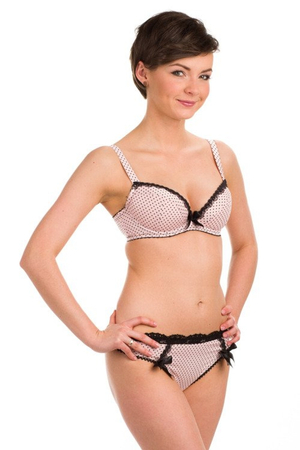 This 3D Lolitka bra, or the S bra n the same material. Unfortunately, they are both sold out in anything that could be my size.
I emailed the brand to ask about sizing, and reminded myself that I should really review my current EM set.
Back to the Juna. Shapewise, the look was projected, but not extremely so. It was not circular and blob like, like t-shirt bras, but a bit natural. The shape was fine. And there you have it!
I will be reviewing the second bra I got, the Zia, wen I can be bothered.
Xoxoxo, Princess